What better way to bring on football season than sharing your favorite things about football with everyone! So I bring you the #ThursdayHuddleParty with Jasmine from Jasmine Maria where everyone can see how you celebrate football! Be sure to link up every 1st and 3rd Thursday of every month through football season. I would love to have you and can't wait to read about your favorite things about football! Meet Your Hosts: -Jasmine from The Jasmine Maria Blog // Twitter // Facebook // Instagram // Pinterest -Ashleigh from Trucks and Ruffles // Pinterest // Instagram // Twitter -Lexi from A Blissful Haven // Twitter // Facebook // Instagram // Pinterest -Andrea from Glam Hungry Mom // Twitter // Facebook // Instagram // Pinterest -Angie from Chasing My Halo // Instagram // Twitter // Pinterest // Facebook -Sarah from Sarah Emily Blogs // Twitter // Facebook // Instagram // Pinterest -Mistle from Sweet Tea and Hydrangeas // Instagram // Twitter -Natasha from Lovely You Blog // Facebook // Twitter // Pinterest // Instagram -Deynece & Melissa from Deux Bella // Twitter // Facebook // Instagram // Pinterest What You Can Link Up: *Anything Football Related such as, recipes to make for Game Day, fashion posts that relate to sportswear/Game Day/what to wear to games, memories relating to football, DIY Football Crafts, updates on your kids' football games, etc. Linkup Rules (Guidelines):

Follow your host and co-hosts in some way
Link up your Thursday Huddle post, NOT your blog URL
Use the hashtag #ThursdayHuddleParty when you share on social media
Grab the button and display it on your blog so others can join the party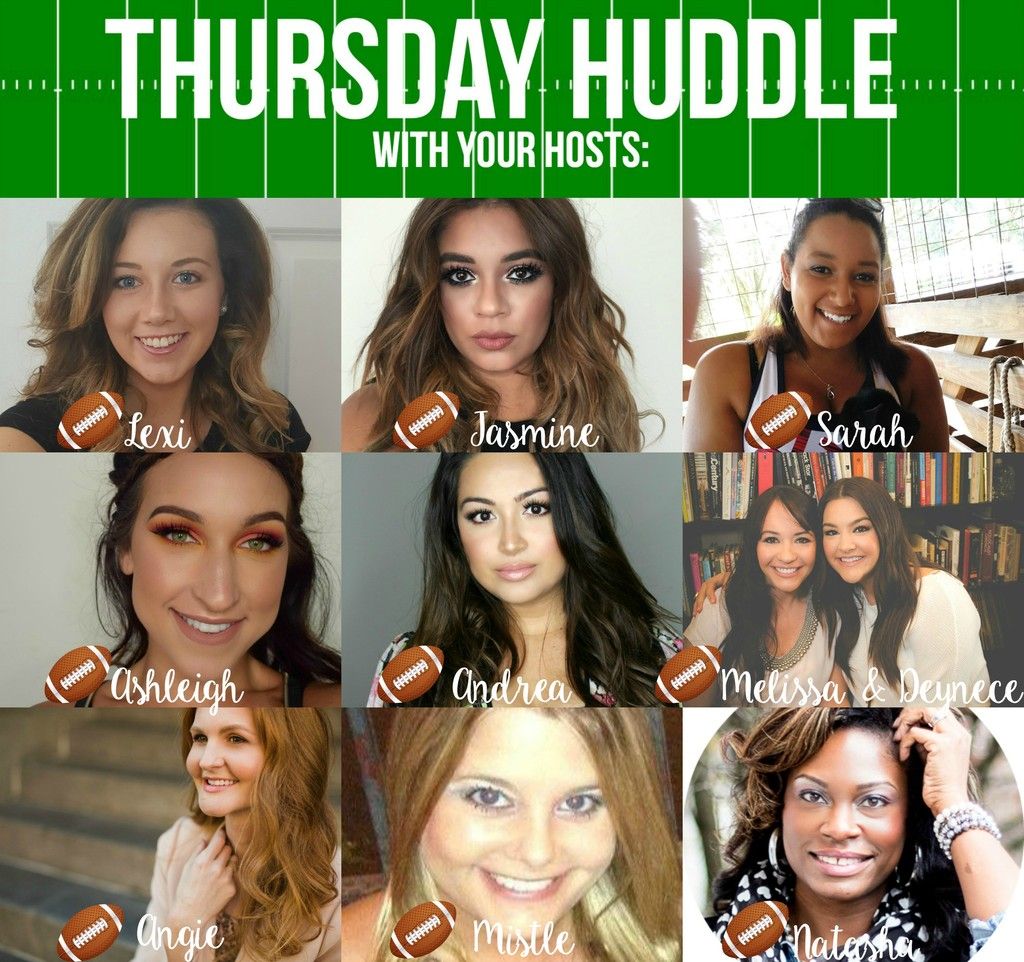 Instructions: Select all code above, copy it and paste it inside your blog post as HTML
a Rafflecopter giveaway
When it comes time for Football season I get so excited, one because I know Fall is upon us and two because there is always good food. Don't get me wrong I love football but I cannot just sit and watch a whole game so I like when there are some good appetizers drinks and friends. I am sharing with you my must haves for game day.
Sundays Pullover
||
Buffalo wings
||
Queso
||
Gameday Drink
||
Cheeseball
I have been wanting one of these hoodies for so long it is so cute, I also want the shirt that says "Can we watch Football and Cuddle?". Cute clothes make the game so much better. Game day food is also so good! I love all the different dips and appetizers that are usually made for the game. I absolutely love chips and dip, I could literally live on chips and salsa so when I found this quest recipe I knew I had to try it! Boneless buffalo wings are also a favorite in my house and these buffalo chicken tenders did not disappoint! I think everyone has to have a drink during the game, I am just not a fan of beer so I usually go or the mixed drinks, you know the ones that taste so good so they re the dangerous ones! I was browsing pinterest one night and I saw this delicious pineapple drink and of course I wanted to try it, I haven't made it yet but this might be on my list for this Sundays game. Last but not least of course you have to have dessert and what better way to serve it than shaped like a football and a delicious cookies and cream cheeseball. I hope this helped with some fun entertaining ideas for your game day.
xo
Ashleigh